Meet Dr. Ramin Sarshad, M.D.
Experienced Medical Skin Aesthetic Provider in Culver City, CA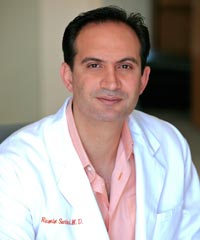 Ramin Sarshad, MD
A graduate of George Washington University School of Medicine who completed his residency at Loma Linda University, Dr. Sarshad has been the Medical Director of Cosmetique Aesthetics since 2005.
Dr. Ramin Sarshad aims to provide only the highest quality aesthetic treatment for his patients. In practice for over 20 years, with a focus on aesthetics for over 12 years, he earns the trust of clients by applying exceptional standards of operation with his passion for artistry.
Read linda a.'s review of Cosmetique Aesthetics on Yelp
What makes Cosmetique stand out

–
Writen On Sep 26, 2011
From G+
It's a given that there are tons of Cosmetic Med Spa's in L.A., but what makes Cosmetique stand out is a doctor who loves what he does, and turns everyday procedures into works of art. I hesitate in telling people where my fountain of youth is hidden, but sharing is caring I suppose. Dr. Sarshad has a marvelous steady hand…he's more of an artist really, and a very generous person in spirit. I think Doctors like him are hard to come by in this day and age…(read more) Overall user rating: Highly Recommended
By A Google user
Dr. Sarshad is an advocate for enhancing appearances ethically
Dr. Sarshad administers his talent and vision with only FDA approved products and technology that have a track record of success. His sincerity about helping clients look amazing and feel great has been so outstanding that he has consistently grown his family of satisfied clientele yearly since establishing Cosmetique in 2005. He looks forward to offering attentive care to even more of you who seek the best.
Dr. Sarshad/ and his welcoming staff look forward to offering you the attentive care they pride themselves on.
"You are not just a patient, you are family." Dr. Sarshad knows all his patients.